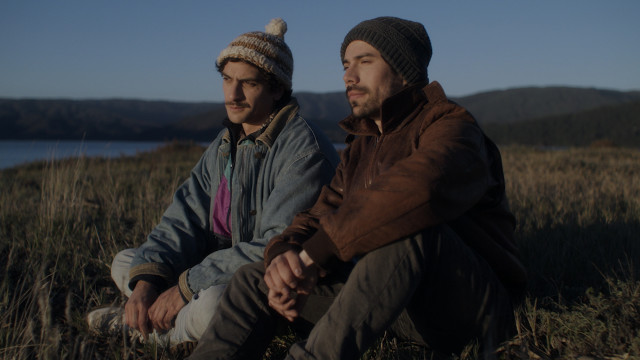 A story of love and bravery at the end of the world.
Grand Jury Prize
Best International Feature
OutFest L.A. 2020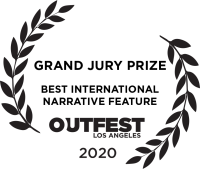 Cinestación and Terranova present
The Strong Ones
A film by Omar Zúñiga
Lucas travels to visit his sister to a remote town in southern Chile. In front of the ocean and the fog, he meets Antonio, a boatswain in a local fishing boat. When an intense romance grows between them, their strength, their independence and their adulthood become immovable in front of the tide.
Official Website
Watch Trailer
Watch Film
2019, Chile / HD / 98 min.
Production Companies Cinestación and Terranova
Cast
Samuel González
Antonio Altamirano
Marcela Salinas
Rafael Contreras
Crew
Written and directed by Omar Zúñiga
Produced by Omar Zúñiga, José Luis Rivas
Executive Producers Dominga Sotomayor, Josemaría Naranjo
Associate Producers Martín Bravo, Nicolás Ibieta, Sokio
Sound Design Roberto Espinoza
Director of Photography Nicolás Ibieta, ACC
Production Designer Nicolás Oyarce
Editors Catalina Marín, Omar Zúñiga
World Sales Meikincine

Distribution in Chile DCI Distribución
Distribution in Germany / Austria / Switzerland Salzgeber
Distribution in Poland OutFilm / Tongariro Releasing
Distribution in United Kingdom/Australia Matchbox Films
Distribution in United States / Canada Breaking Glass Pictures


---
Awards
Grand Jury Prize for Best International Narrative Feature, and Audience Award for Narrative Feature, OutFest Los Angeles
Official Selection United States, 2020
Best Foreign Language Film
Florida Film Critics Circle United States, 2020
Best Narrative Film, OutShine Film Festival
Official Selection United States, 2020
Best Narrative Feature, ImageOut, Rochester LGBT Film Festival
Official Selection United States, 2020
Best Director, Out on Film Atlanta LGBTQ Film Festival
Narrative Features United States, 2020
Jury Award for Outstanding Feature Film, QFlix Philadelphia
Official Selection United States, 2020
Audience Award, Image+Nation Montreal LGBTQ Film Festival
Official Selection Canada, 2020
---
Screenings
26th Valdivia International Film Festival
Opening Film Chile, 2019
48th Gramado Film Festival
International Competition Brazil, 2020
43rd Göteborg Film Festival
New Voices Sweden, 2020
32nd Cinélatino Recontres de Toulouse
Découvertes Fiction France, 2020
24th Queer Lisboa
Opening Film Portugal, 2020
32nd NewFest New York LGBTQ Film Festival
Official Selection United States, 2020
FIRE!! Mostra Internacional de Cinema Gai i Lesbià de Barcelona
Official Selection Spain, 2020
30th Inside Out Toronto LGBTQ+ Film Festival
International Features Canada, 2020
27th Mardi Gras Film Festival
Official Selection Australia, 2020
6th La Serena International Film Festival
Main Competition Chile, 2020
Mix Copenhagen
Official Selection Denmark, 2020
23th Pink Apple Film Festival
Feature Films Switzerland, 2020
Slovak Queer Film Festival
Opening Film Slovakia, 2020
25th Seattle Queer Film Festival
Features United States, 2020
Queer Film Festival
Official Selection Germany, 2020
Reeling Chicago LGBTQ+ International Film Festival
Narrative Features United States, 2020
30th Melbourne Queer Film Festival
Official Selection Australia, 2020
Roze Filmdagen, Amsterdam LGBTQ Film Festival
Official Selection The Netherlands, 2020
5th AMOR International LGBT+ Film Festival
Chilean Panorama Chile, 2020
35th Lovers Film Festival
Special Screening Italy, 2020
Queer Voices International Film Festival
Official Selection Moldova, 2020
28th San Diego Latino Film Festival
Narrative Features United States, 2021
Brisbane Queer Film Festival
Official Selection Australia, 2021
Llámale H
Opening Film Uruguay, 2021
---
---